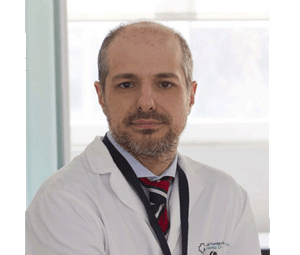 Raúl Córdoba Mascuñano
Hematología y Hemoterapia
Titulación
Licenciado en Medicina. Universidad Autónoma de Madrid. 1993-1999
Médico Especialista en Hematología y Hemoterapia. Hospital Universitario de la Princesa. 2001-2005
Master en Oncología Molecular. Centro Nacional de Investigaciones Oncológicas (CNIO). 2008-2010
Master Universitario en Investigación Clínica. Universidad Camilo José Cela. 2010-2011
Doctor en Medicina. Universidad Autónoma de Madrid. 2012
Executive Education en Biobancos. Instituto de Salud Carlos III (ISCIII). 2011-2012
Master Universitario en Farmacología Clínica e Investigación Traslacional, especialidad en Farmacogenética y Medicina Personalizada. Universidad de Extremadura. 2012-2013
International Master Certificate of Competence in Lymphomas. European School of Oncology (ESO) & University of Ulm (Germany). 2013-2014
International Master Programme for Oncology Leaders in Europe. Universita Bocconi, Milano (Italy). 2014-2015
Investigación y docencia
Coordinador de Investigación Clínica en neoplasias linfoides, Hospital Universitario Fundación Jiménez Díaz. 2014 – hasta la actualidad
Investigador principal de numerosos ensayos fase 2 y fase 3 en patologías como Linfoma no Hodgkin, Enfermedad de Hodgkin, Leucemia Linfática Crónica y otros síndromes linfoproliferativos crónicos.
Investigador clínico de la Unidad de Ensayos Fase 1 START Madrid-FJD, Hospital Universitario Fundación Jiménez Díaz. Investigador principal de ensayos clínicos con nuevas dianas moleculares y terapias de inmuno-oncología. 2014 – hasta la actualidad
Miembro vocal del Comité de Ética en la Investigación Clínica (CEIC), Hospital Universitario Fundación Jiménez Díaz. 2015 – hasta la actualidad
Jefe de Línea de Linfomas, Instituto de Investigaciones Sanitarias IIS-FJD. Interés en nuevas dianas moleculares y en la inmuno-oncología en neoplasias linfoides. 2014 – hasta la actualidad
Investigador asociado, Laboratorio de Tumorinmunología, Grupo de Respuesta Inmune Innata, Instituto de Investigación Hospital La Paz (IdiPAZ). 2012 – hasta la actualidad
Investigador colaborador, Laboratorio de Linfomas, Instituto de Investigaciones Biomédicas "Alberto Sols", CSIC-UAM. 2012 – hasta la actualidad
Profesor Asociado de Hematología, Hospital Universitario Infanta Sofía, Universidad Europea Madrid. 2013-2014
Profesor Ayudante Doctor, Clínico Colaborador Docente, Departamento de Medicina, Universidad Autónoma de Madrid. 2014 – hasta la actualidad
Reconocimientos y certificaciones
Auditor Interno de Calidad en Centros y Servicios de Transfusión
Auditor Técnico de Laboratorio Clínico ISO 15180 por ENAC
Certificado de Buena Práctica Clínica. University of London
Auditor Técnico de I+D+i de DNV GL en investigación traslacional en oncología
Profesor Ayudante Doctor acreditado por la ANECA (Agencia Nacional de Evaluación de la Calidad y Acreditación) del Ministerio de Educación
Afiliaciones
Miembro de la Sociedad Española de Hematología y Hemoterapia (SEHH)
Miembro del grupo de Linfomas Agresivos y de Linfomas Indolentes del Grupo Español de Linfomas y Trasplante de Médula ósea (GELTAMO)
Miembro del Grupo Español de Leucemia Linfática Crónica (GELLC)
Vicepresidente del Grupo Español de Hematogeriatría (GEHGE)
Miembro de la Asociación Madrileña de Hematología y Hemoterapia (AMHH)
Coordinador del Registro de Leucemias Agudas del Grupo de Leucemias Agudas de Madrid (GLAM)
Miembro de la European Hematology Association (EHA)
Miembro de la American Association for Cancer Research (AACR)
Miembro de la Society International Oncology Getriatrics (SIOG)
Publicaciones
Cordoba R, Sanchez-Beato M, Herreros B, Domenech E, Garcia-Marco J, Garcia JF, Martinez-Lopez J, Rodriguez A, Garcia-Raso A, Llamas P, Piris MA. Two distinct molecular subtypes of chronic lymphocytic leukemia give new insights on the pathogenesis of the disease and identify novel therapeutic targets. Leuk Lymphoma. 2015 May 12:1-9. [Epub ahead of print] PubMed PMID: 25811675.
Cordoba R, Alvarez B, Masso P, Gonzalez FA, Conejo L, Velasco D, Alonso JM, Villarrubia J, Cava F, Llamas P. The utility of multiparametric seven-color flow cytometry in the detection of double hit lymphoma in ascitic fluid samples. Cytometry B Clin Cytom. 2015 Jan 22. doi: 10.1002/cyto.b.21227. [Epub ahead of print] PubMed PMID: 25612555.
Jurado-Camino T, Córdoba R, Esteban-Burgos L, Hernández-Jiménez E, Toledano V, Hernandez-Rivas JA, Ruiz-Sainz E, Cobo T, Siliceo M, Perez de Diego R, Belda C, Cubillos-Zapata C, López-Collazo E. Chronic lymphocytic leukemia: a paradigm of innate immune cross-tolerance. J Immunol. 2015 Jan 15;194(2):719-27. doi: 10.4049/jimmunol.1402272. Epub 2014 Dec 10. PubMed PMID: 25505275
Bennett TA, Montesinos P, Moscardo F, Martinez-Cuadron D, Martinez J, Sierra J, García R, de Oteyza JP, Fernandez P, Serrano J, Fernandez A, Herrera P, Gonzalez A, Bethancourt C, Rodriguez-Macias G, Alonso A, Vera JA, Navas B, Lavilla E, Lopez JA, Jimenez S, Simiele A, Vidriales B, Gonzalez BJ, Burgaleta C, Hernandez Rivas JA, Cordoba Mascuñano R, Bautista G, Perez Simon JA, Fuente Ade L, Rayón C, Troconiz IF, Janda A, Bosanquet AG, Hernandez-Campo P, Primo D, Lopez R, Liebana B, Rojas JL, Gorrochategui J, Sanz MA, Ballesteros J. Pharmacological profiles of acute myeloid leukemia treatments in patient samples by automated flow cytometry: a bridge to individualized medicine. Clin Lymphoma Myeloma Leuk. 2014 Aug;14(4):305-18. doi: 10.1016/j.clml.2013.11.006. Epub 2013 Nov 15.
Cordoba R, Poole J, Marais I, Mora A, Ercoreca L, Long S. The second example of anti-Er(b) in a woman during her third pregnancy. Blood Transfus. 2013 Jul;11(3):454-5. doi: 10.2450/2012.0098-12. Epub 2012 Oct 10. PubMed PMID: 23114526; PubMed Central PMCID: PMC3729140.
Soares-Schanoski A, Jurado T, Córdoba R, Siliceo M, Fresno CD, Gómez-Piña V, Toledano V, Vallejo-Cremades MT, Alfonso-Iñiguez S, Carballo-Palos A, Fernández-Ruiz I, Cubillas-Zapata C, Biswas SK, Arnalich F, García-Río F, López-Collazo E. Impaired antigen presentation and potent phagocytic activity identifying tumor-tolerant human monocytes. Biochem Biophys Res Commun. 2012 Jun 29;423(2):331-7. doi: 10.1016/j.bbrc.2012.05.124. Epub 2012 May 31. PubMed PMID: 22659741.
Ropero P, Córdoba R, Morado M, González FA, Villegas A; Erythropathology Spanish Group. Another Hb with inclusion bodies β-thalassemia, owing to Hb Durham-N.C. [β114(G16) Leu > Pro]. First case described in Hispanic populations. Ann Hematol. 2012 May;91(5):781-4. doi: 10.1007/s00277-011-1310-4. Epub 2011 Aug 16. PubMed PMID: 21845419.
Cordoba R, Ramirez E, Lei SH, Lopez de la Guia A, Sanjurjo MJ, Carcas AJ, Hernandez-Navarro F. Hypercalcemia due to an interaction of all-trans retinoic acid (ATRA) and itraconazole therapy for acute promyelocytic leukemia successfully treated with zoledronic acid. Eur J Clin Pharmacol. 2008 Oct;64(10):1031-2. doi: 10.1007/s00228-008-0517-3. Epub 2008 Jun 27. PubMed PMID: 18584165.
Cordoba R, Arrieta R, Kerguelen A, Hernandez-Navarro F. The occurrence of adverse events during the infusion of autologous peripheral blood stem cells is related to the number of granulocytes in the leukapheresis product. Bone Marrow Transplant. 2007 Dec;40(11):1063-7. Epub 2007 Oct 1. PubMed PMID: 17906706.
García-Noblejas A, Osorio S, Durán AI, Córdoba R, Nistal S, Aguado B, Loscertales J, Gómez N. Pulmonary embolism in a patient with severe congenital deficiency for factor V during treatment with fresh frozen plasma. Haemophilia. 2005 May;11(3):276-9. PubMed PMID: 15876274.
Cordoba R, Arranz R, Cannata J. Unexpected immune complications in patients with non-Hodgkin's lymphoma receiving CD34-selected autologous peripheral stem cell transplantation. Bone Marrow Transplant. 2005 Jun;35(12):1217-8. PubMed PMID: 15852026.
Comunicaciones y ponencias
Autor principal y coautor de más de 100 comunicaciones y ponencias en congresos tanto nacionales como internacionales.
© 2023 Quirónsalud - All rights reserved