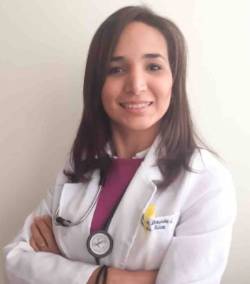 TATIANA HERNÁNDEZ GUERRERO
Oncología Médica, Unidad de Alto Riesgo de Cáncer, Cáncer Hereditario
Titulación
Licenciada en Medicina – Universidad de Carabobo (Venezuela) – 2008
Especialista en Oncología Médica – H.U Fundación Jiménez Díaz – 2016
Investigación y docencia
Colaboradora docente H.U Fundación Jiménez Díaz – Universidad autónoma de Madrid
Reconocimientos y certificaciones
Rotación específica en la Unidad de Cáncer Hereditario en el Centro Oncológico de la Universidad de Michigan (Sept/Ene – 2015)
Reanimación cardiopulmonar avanzada (AHA Association Certificate)
Inglés avanzado (TOEFL Certificate)
Afiliaciones
Sociedad Española de Oncología Médica
American Society of Clinical Oncology
Publicaciones
MicroRNA-21 predictcs response to preoperative chemoradiotherapy in locally advanced rectal cancer
Caramés C, Cristóbal I, Moreno V, del Puerto L, Moreno I, Rodriguez M, Marín JP, Correa AV, Hernández R, Zenzola V, Hernández T, León A, Martín JI, Sánchez-Fayos P, García-Olmo D, Rojo F, Goel A, Fernandez-Aceñero MJ, García-Foncillas J.
Int J Colorectal Dis. 2015 Jul;30(7):899-906
General Surgery and Pregnancy; Chapter 14: "Gastrointestinal oncologic diseases and pregnancy".
Tatiana Hernández, Irene Moreno, Cristina Caramés, Gloria Serrano
ISBN-13:978-84-616-4767-5.
Comunicaciones y ponencias
Dual blockade HGF/MET in head and neck squamous cell carcinoma.
Tatiana Hernandez, Gloria Serrano, Irene Moreno, Cristina Caramés, Victoria Casado.
Ponencia. SEOM 2014.
Marginal lymphoma – Report of one case:
Tatiana Hernández, Irene Moreno, Miriam Lobo de Mena, Francisco Lobo.
Ponencia. GOTEL 2014.
H2AX and topoisomerase II expression are potencial predictors of response to treatment with pegylated liposomal doxorubicine in metastatic ovarian cancer.
Irene Moreno, Tatiana Hernandez, Victor Zenzola, Andrea Correa, Roberto Hernandez, Jesus García-Foncillas.
Presentación de póster. SEOM 2015.
"Retroperitoneal Schwannoma: report of a case"
Tatiana Hernández, Arturo Rojas, Miguel Rodríguez
Ponencia. LXIV Congreso Nacional de Cirugía Oncológica. Oct/2008
© 2023 Quirónsalud - All rights reserved